Luscious Leather produces soft leather goods that are designed and manufactured with individual features to accommodate the customers' personal needs.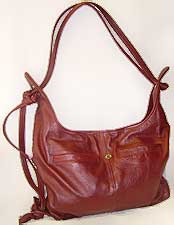 An owner operated home based sewing business, Luscious Leather uses quality soft leathers and suedes to produce individually designed and individually crafted Ladies' Bags, Hoof Care Aprons, the Easy Hanger hay bags and various related accessories.
Leonie Tainsh explains "my mission is to provide practical, quality, functional, durable and simple soft leather items that suit their purpose". Leonie is involved personally in the use of each product and consequently is continuously testing her products and her new designs and the product features.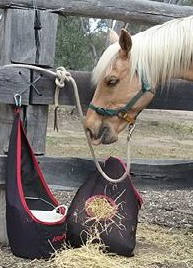 The Luscious Leather range currently includes - Wrist Guards and Rasp Covers; Velcro / Webbing Hobbles; Convertible Hand Bags; Easy Hangers; Hay Bags and Gate Banners.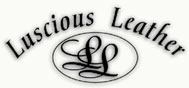 For further information, leather and lining samples please contact Leonie:
Phone: 03 58622787
Mobile: 0438 262509
eMail:
Address: 1980 Boothroyd's Road, Numurkah. Vic. 3636.